Book Expo left me inspired y'all and in the aftermath I've found myself adding tons of new books to my TBR.  Many of them are books from the Expo or related because of authors I was introduced to there.  Additionally I've just been in the book zone and have discovered some amazing new blogs with great recs…sometimes I feel like I'm late to the party but totally check out A Paige With a View because her blog is beautiful and her features are so fun and detailed.  Additionally I've been adding tons of non YA books to my TBR!  Whether that be classics that have caught my eye or summer recommendations from Modern Mrs. Darcy I've been making an effort to expand my reading repertoire.  Here are 7 books that have found their way onto my TBR in June:

 Neighborhood Girls | Jessie Ann Foley // I'm not 100% sure where I found this one but I'm pretty sure it was Goodreads.  For one thing the cover is beautiful…and I'm not gonna lie that's probably why I clicked on it in the first place.  I added to my TBR because of the blurb–which I found to be really bizarre.  In a good way!!!  
When Wendy Boychuck's father, a Chicago cop, was escorted from their property in handcuffs for his shady criminal practices, she
knew her life would never be the same. Her father gets a years-long jail sentence, her family falls on hard times, and the whispers around town are impossible to ignore. If that wasn't bad enough, she gets jumped walking home from a party one night. Wendy quickly realizes that in order to survive her father's reputation, she'll have to make one for herself. 
Then Wendy meets Kenzie Quintana—a cigarette-smoking, Catholic-school-uniform-skirt-hiking alpha—and she knows that she's met her savior. Kenzie can provide Wendy with the kind of armor a girl needs when she's trying to outrun her father's past. Add two more mean girls to the mix—Sapphire and Emily—and Wendy has found herself in Academy of the Sacred Heart's most feared and revered clique. Makeover complete. 
But complete is far from what Wendy feels. Instead, she faces the highs and lows of a vapid, toxic friendship, the exhaustion that comes with keeping up appearances, and the only loss that could hurt more than losing herself.

The Shark Club | Ann Kidd Taylor // This one is from Modern Mrs. Darcy…but I was immediately drawn in because of the title.  Anyone
who knows me at all knows that sharks are pretty much my biggest fear but somehow I'm also kind of obsessed with them?!  The idea of a fiction book featuring sharks + mystery caused me to click that "to-read" button so fast.
One summer day on the beach in Florida, two extraordinary things happen to Maeve Donnelly. First, she is kissed by Daniel, the boy of her dreams. Then, she is bitten by a blacktip shark.
Eighteen years later, Maeve has thrown herself into her work as a world-traveling marine biologist discovering more about the minds of misunderstood sharks. But when Maeve returns home to the legendarily charming and eccentric Hotel of the Muses where she was raised by her grandmother, she finds more than just the blood orange sunsets and key lime pies she's missed waiting for her.
While Maeve has always been fearless in the water, on land she is indecisive. A chance meeting on the beach with a plucky, irresistible little girl who is just as fascinated by the ocean as Maeve was growing up leaves her at a crossroads: Should she re-kindle her romance with Daniel, the first love she left behind when she dove into her work? Or indulge in a new romance with her colleague, Nicholas, who turns up in her hometown to investigate an illegal shark-finning operation? 
Set against the intoxicating backdrop of palm trees, calypso bands, and perfect ocean views, The Shark Club is a story of the mysterious passions of one woman's life: her first love and new love; the sea and sharks that inhabit it.

Hunger: A Memoir of (my) body | Roxane Gay // If you mosey on over to my recently updated favorites page you'll find Gay's essay collection Bad Feminist as my favorite nonfiction book of the moment.  Since the announcment of Hunger I've listened to/read countless interviews with Gay and I couldn't be more excited for her new memoir!  The reviews have been wonderful so far…YAY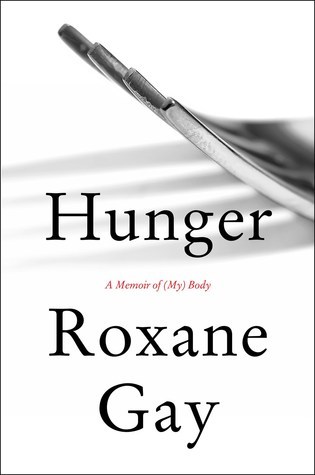 In her phenomenally popular essays and long-running Tumblr blog, Roxane Gay has written with intimacy and sensitivity about food and body, using her own emotional and psychological struggles as a means of exploring our shared anxieties over pleasure, consumption, appearance, and health. As a woman who describes her own body as "wildly undisciplined," Roxane understands the tension between desire and denial, between self-comfort and self-care. In Hunger, she explores her own past—including the devastating act of violence that acted as a turning point in her young life—and brings readers along on her journey to understand and ultimately save herself. 
With the bracing candor, vulnerability, and power that have made her one of the most admired writers of her generation, Roxane explores what it means to learn to take care of yourself: how to feed your hungers for delicious and satisfying food, a smaller and safer body, and a body that can love and be loved—in a time when the bigger you are, the smaller your world becomes.
At Book Expo I had the privilege of meeting with one of the publicists from Wednesday Books and subsequently spent some time
doing research…you can read more about their launch here.  I came across this book because its sequel is an
upcoming publication from the new imprint but of course you have to read in order!!!  This first title was reviewed very highly too so I am down for this.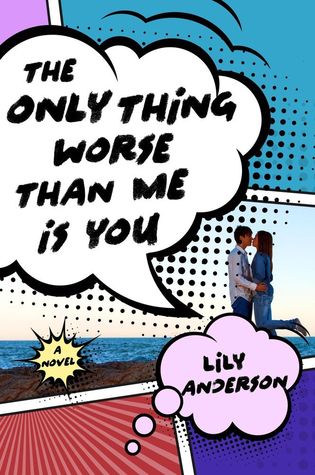 The Only Thing Worse Than Me is You | Lily Anderson // Trixie Watson has two very important goals for senior year: to finally save enough to buy the set of Doctor Who figurines at the local comic books store, and to place third in her class and knock Ben West–and his horrendous new mustache that he spent all summer growing–down to number four.
Trixie will do anything to get her name ranked over Ben's, including give up sleep and comic books–well, maybe not comic books–but definitely sleep. After all, the war of Watson v. West is as vicious as the Doctor v. Daleks and Browncoats v. Alliance combined, and it goes all the way back to the infamous monkey bars incident in the first grade. Over a decade later, it's time to declare a champion once and for all.
The war is Trixie's for the winning, until her best friend starts dating Ben's best friend and the two are unceremoniously dumped together and told to play nice. Finding common ground is odious and tooth-pullingly-painful, but Trixie and Ben's cautious truce slowly transforms into a fandom-based tentative friendship. When Trixie's best friend gets expelled for cheating and Trixie cries foul play, however, they have to choose who to believe and which side they're on–and they might not pick the same side.

I came across this novel when I was introduced to the author at Book Expo by one of Willa's publishing friends (whilst in line of course).  Her pitch for the novel had me hooked…and while the reviews have been mixed I think I'm willing to give it a try for myself.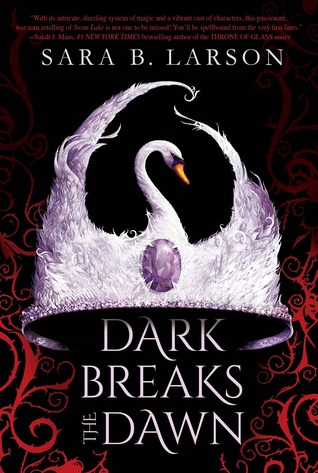 Dark Breaks the Dawn | Sara B. Larson // On her eighteenth birthday, Princess Evelayn of Éadrolan, the Light Kingdom, can finally access the full range of her magical powers. The light looks brighter, the air is sharper, and the energy she can draw when fighting feels almost limitless.
But while her mother, the queen, remains busy at the war front, in the Dark Kingdom of Dorjhalon, the corrupt king is plotting. King Bain wants control of both kingdoms, and his plan will fling Evelayn into the throne much sooner than she expected.
In order to defeat Bain and his sons, Evelayn will quickly have to come into her ability to shape-shift, and rely on the alluring, but mysterious Lord Tanvir. Not everyone is what they seem, and the balance between the Light and Dark comes at a steep price.

This is something that one of my favorite English teachers recommended me at the end of the school year as she was currently
reading it.  I'm a huge fan of novels that take place over the course of multiple generations + multiple years.  This seems to be the ultimate version of that–covering 300 years in Ghana.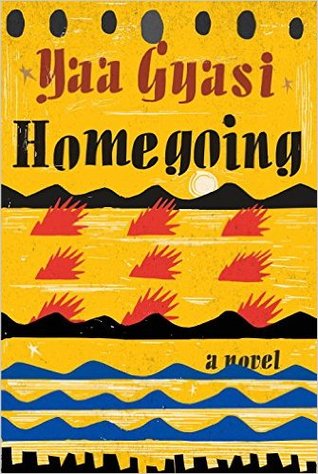 Homegoing | Yaa Gyasi // Two half sisters, Effia and Esi, are born into different villages in eighteenth-century Ghana. Effia is married off to an Englishman and lives in comfort in the palatial rooms of Cape Coast Castle. Unbeknownst to Effia, her sister, Esi, is imprisoned beneath her in the castle's dungeons, sold with thousands of others into the Gold Coast's booming slave trade, and shipped off to America, where her children and grandchildren will be raised in slavery. One thread of Homegoing follows Effia's descendants through centuries of warfare in Ghana, as the Fante and Asante nations wrestle with the slave trade and British colonization. The other thread follows Esi and her children into America. From the plantations of the South to the Civil War and the Great Migration, from the coal mines of Pratt City, Alabama, to the jazz clubs and dope houses of twentieth-century Harlem, right up through the present day, Homegoing makes history visceral, and captures, with singular and stunning immediacy, how the memory of captivity came to be inscribed in the soul of a nation.

This one found it's way onto my tbr via the introductions of new contributors to Twirling Pages…this was one that new member Chelsea recommended. Anyways I find all sorts of things about it to be intriguing.  First of all it takes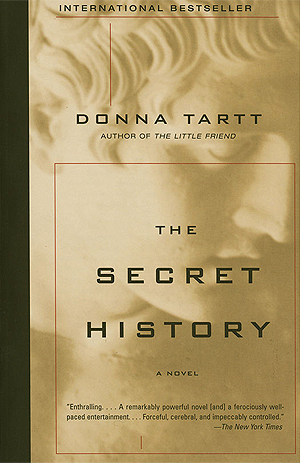 place at a college in New England and hey lots of schools on my college list are in New England so…go figure!  This novel is also a mystery…with a bunch of intellectual college students and a passionate professor.  Oh wait, this isn't my life already?  I swear I've solved a mystery with my friends + the help of our favorite teacher already…hmmmm.  It seems that this book was meant to find its way into my hands.
The Secret History | Donna Tartt // Under the influence of their charismatic classics professor, a group of clever, eccentric misfits at an elite New England college discover a way of thinking and living that is a world away from the humdrum existence of their contemporaries. But when they go beyond the boundaries of normal morality they slip gradually from obsession to corruption and betrayal, and at last – inexorably – into evil.
Wow that was so fun!!!  I haven't really spent time talking about why I add books to my tbr before but I think that it's something that I'm going to continue to do.  Yay for new books and yay for new features!  Happy reading everybody.