Title: Bad Feminist
Author: Roxane Gay
Publishing: August 5th 2014 by Harper Perennial
Source: library
Format: library paperback
Genre: nonfiction; essays; collection
Date read: March 2017
Thoughts:
Because Bad Feminist is a collection of essays rather than a novel or collection of short stories I decided that I had to review it a little bit differently.  So I snagged all of my favorite quotes from the various essays and am going to explain why I love them!  (Spoiler–I loved a LOT of things about this collection XD).
Although this quote technically refers to being a feminist specifically, I love the way that it can be applied to life.  Sometimes I set such a high bar for myself in everything I do (self-pressure anyone? lol) and this quote helps remind that I AM human.  I AM messy.  And I'm not perfect.  But no one is asking for perfect except me.  This functioned as a good reminder that sometimes self reflection is a necessary part of being a human.

Ahh yes.  I can't tell you how many times I've come into a room ranting about an article in a newspaper or magazine with an adult audience that makes gross assumptions about YA readership and appropriate subject matter.  What makes this quote special to me is that Roxane Gay isn't a YA writer–so in a sense, she has no real ~investment~ in the potential censorship that plagues this community.  And yet, although Gay's novels are geared towards adult audiences, not only does she remain committed to quality and freedom of subject matter in the YA community but she celebrates the novels in it that she loves.

This quote applies to, well, lots of aspects of my life. In terms of reviewing books, I think that there's a fine line (that sometimes is crossed) between criticizing a novel in a constructive manner versus attacking an author's personal worth (for writing a shitty novel).  That being said, everyone needs to be held accountable for the content that they are producing, but the answer isn't always to leave hateful messages.  There is a lot of ignorance in this world–call outs are important and helpful.
I also think that at some level this can apply to everyday life.  High school can be a topsy turvy place.  Never again in your life do you have such a closed community and built in group of friends–and while there are certain perks to this, the stresses of teenage life often cause drama.  And there is an important difference between constructively talking to a friend about how they made you feel versus shit talking them because you're upset.  These things work two fold y'all.

The golden quote, and yet this concept can never be over emphasized.  This my friends, is why representation is so important in literature.  Movies aren't just movies, tv shows aren't just tv shows, and BOOKS aren't just books.  Entertainment is an integral part of our culture, and to live in a cohesive society it is imperative to have entertainment that features BOTH "windows and mirrors".  There are times when, in an effort to combat the ignorance of our own personal experiences, it's important to consume media that functions as a "window"–entertainment that features persons and experiences that differ than your own.  However, in the same manner, it is just as important to consume media that functions as a "mirror" in order to feel as though our experiences, however wonderful or horrible they maybe, are valid in this society.  At the moment, the #weneeddiversebooks movement is SO important because, particularly in YA, a lot of books are function as mirrors–for straight/white/abled people.  We need more windows!  Because yes, "books are often far more than just books"(70).

This has always been a firm belief of mine–because I value honesty so much, I always want to share that with my friends.  However, it's often easier said than done (lol) so this was a gentle reminder that yes–it is still important.

I apologize if this quote seems a little out of context, but basically it refers to a book review that's primary reason for disapproving of the novel was due to the character's "likability".  The notion that Gay disliked this was fascinating to me–especially when I realized that I agree with her.  When I read novels and stories, it's not about whether or not I think that I could be a close friend of this character–it's about whether or not I think that the book was well written.  While yes, a character's "likability" can affect how you experience a book and that's entirely valid, it's important not to make that the entire basis of a critical review (in my opinion) .

This quote, actually a Claire Messed quote that Gay uses, really connects back to the quote above.  I don't want to speak against anyone else's reading experience–but I don't read to find friends.  Sure, reading was there for me when I struggled with friendships, but reading never has replaced human contact in my life.  In that same regard I don't decide how feel about a character based on how I would feel about them in real life.  It is more a "is this character alive" sort of moment.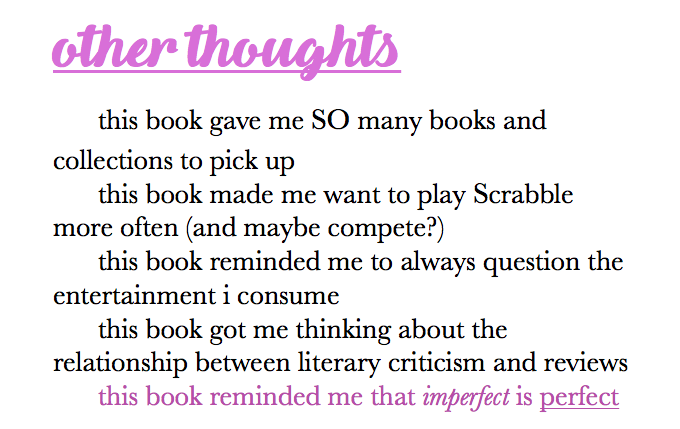 Bottom line–Bad Feminist is absolutely worth the read.  Whether or not you are a connoisseur of essays/the feminist agenda Gay's writing is witty, bountiful, and thought provoking.  Each essays impacts in a different way, but I appreciate every one of them.