Review:
Title: The Hate U Give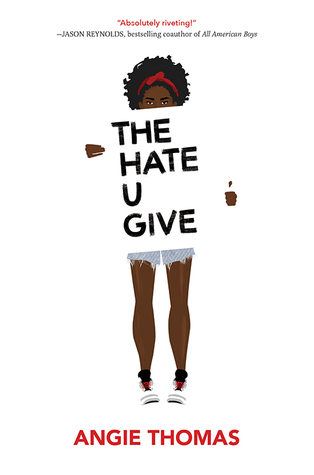 Author: Angie Thomas
Publishing: February 28th 2017 by Balzer & Bray/Harperteen
Source: library
Format: library hardcover
Genre: YA; Contemporary; Romance subplot
Date Read: May 2017
Sixteen-year-old Starr Carter moves between two worlds: the poor neighborhood where she lives and the fancy suburban prep school she attends. The uneasy balance between these worlds is shattered when Starr witnesses the fatal shooting of her childhood best friend Khalil at the hands of a police officer. Khalil was unarmed.
Soon afterward, his death is a national headline. Some are calling him a thug, maybe even a drug dealer and a gangbanger. Protesters are taking to the streets in Khalil's name. Some cops and the local drug lord try to intimidate Starr and her family. What everyone wants to know is: what really went down that night? And the only person alive who can answer that is Starr. 
But what Starr does or does not say could upend her community. It could also endanger her life.
Thoughts:
The hype for The Hate U Give was super real, so it had been on my radar for awhile before it was published.  As soon as it was released it felt like everyone was talking about it–especially in celebration of the book's time spent on the #1 NYT Bestseller's list.  I read the premise, was immediately convinced that this was a must read…and proceeded to forget about it (as I have a habit of doing).  BUT never fear, I spotted a copy at the library before spring break and decided that I had to bring it home with me.  I didn't end up reading it on spring break (I read Bad Feminist, Drinking Coffee Elsewhere, The Nest, and Last Day On Mars instead lol) but it remained a priority TBR and finally was devoured amidst AP studying this May.  Now that all of my testing is over (FINALLY) I have more time to read and review as the school year dwindles to an end, which brings me here.  To The Hate U Give.
I want to preface this review with the idea that I read for a lot of reasons, but one of them being empathy.  I wrote an essay for school this year about the way that reading different novels growing up and into my teenage years as influenced the way that I think about people and their situations.  Even though I grew up in a very open minded household, I also credit the way that I approach the world to my books that I have read.  So, when reading a book that is so current in the topic that it discusses, I wanted to preface my review with the details that I read this from the perspective of a liberal white woman who supports the Black Lives Matter movement.  Now onto the review…
From the moment The Hate U Give opens, Thomas writes in an unapologetically unique way.  In all honesty, it's shameful that her style felt so foreign because of the lack of POC authors in YA at the moment, but as the novel continued I grew to appreciate the style more and more because it was pushing me outside of my comfort zone.  One of the important lessons I think that THUG gave me was that despite the differences between the protagonist, Starr, and myself, there were plenty of moments that I felt matched my life.  In my opinion that is what YA should be: a mixture of moments in which you can relate to and moments in which you cannot.  Additionally, Thomas made no effort to craft Starr as "perfect".  She's a teenager, and like all teenagers she has moments of immaturity and moments when she makes mistakes.  But Starr also has moments of intense, admirable bravery, and I was pleased read such a realistic character.  One of the most interesting aspects of THUG was the battle between Thomas' transparency and Starr's struggle to hide her truths.  Thus, when moments from Starr's life or past are revealed to the reader, Thomas makes no effort to sugar coat theireality, but Starr does and that makes her all the more human.
THUG is not without violence, but the way that Thomas depicts this violence is incredibly important.  Starr suffers from incredible trauma in her life, and while at first I was frustrated with the way that she was interacting with other characters as a result, I came to realize that in reality Thomas has characterized Starr perfectly.  No one processes grief or pain in a textbook way, and the moments of normalcy that Starr clings to before crashing into tears represent a true reality for the way that people heal.  Thomas makes no effort to rush Starr, even when other characters try to.  I found the situation, as horrifying and upsetting (and truthful) as it was, to feel very real.
Thomas has this way of not just creating characters, but also creating relationships.  It's a common complaint among YA reviewers that the contemporary genre is missing real family dynamics, but family was not missing from THUG. Whether it be Starr's immediate family, her extended family, or neighbors in Garden Heights that she considers to be family, Thomas crafts a relationship with each of them.  None of which are perfect, but each grasp true human interaction in a way that I as a reader crave.  It's not often that I find myself seeing my family relationships mirrored in novels, but that is something that THUG works to change.
Lastly, perhaps the most artful aspect of THUG was the way in which Thomas was able to have a primary plot and ROMANCE AS THE SUB PLOT.  OH MY GOD THIS IS SUCH A BIG DEAL.  Rarely have I found novels in YA that achieve this, and even they are even more rare in the contemporary genre.  The context fit perfectly, because with everything that is going on in Starr's life a full blown focus on romance would have felt bizarre, but it's inclusion helps enforce Starr's battle between what she considers to be her two selves.  Additionally, just as Starr's relationship with Chris is flawed…Chris himself is also flawed.  Despite his imperfections, he always makes an effort, and I fell in love with their relationship arc because it portrayed real teenaged emotions and a couple that grows together.  As the novel progresses, Chris and Starr reach a point in which they are vulnerable, both willing to learn and make mistakes, which is admirable not just in a teenage relationship, but in any.  THUG is less friendship focused, but not without. When Starr comes to realize that some relationships are worth saving and that others are best to let go of, Thomas shares an important lesson that every teenager needs to learn. It's inclusion in THUG grounds the novel in a general teenage experience.
Final Thoughts:
The Hate U Give is raw, is painful, and is true.  This novel speaks not to a one of a kind audience, but to a group of readers traditionally excluded from YA contemporary and it's mere existence speaks bounds for the future of the industry.  I was impressed with Thomas' thoughtful characterization of not just the protagonist but her family and others with whom she is close.  Thomas handles a topic like Black Lives Matter with incredible poise, and gives a perspective on the matter that I haven't found to be particularly popularized in the media.  This novel is important and, phenomenal writing aside, is a novel that you should read.
Other Opinions:
Jazmen | This Girl Reads a lot