Top Ten Tuesday is a weekly meme hosted by The Broke and the Bookish
This weeks top ten is "10 Book Recommendations for X"
*I don't put my Top Tens in any order.

When I say "people branching out of YA" I mostly mean teenagers–teenagers who are aging and might find themselves attracted to works geared towards an older audience.  That being said, you can still 100% love YA and enjoy these reads, or you cannot read YA at all and enjoy these reads. When I originally considered making a list of book recommendations I imagined it being primarily focused on new adult books/adult fiction books with younger characters. However, the list ended up becoming a mix of the books that I've enjoyed as I've branched out of YA.  As a result, it's a pretty eclectic mix and certainly doesn't at all fit into the description of "new adult".  Additionally, the reason that I picked each book to be included varies so don't expect them all to fall into a singular category.

The Namesake by Jhumpa Lahiri | Published September 1st 2004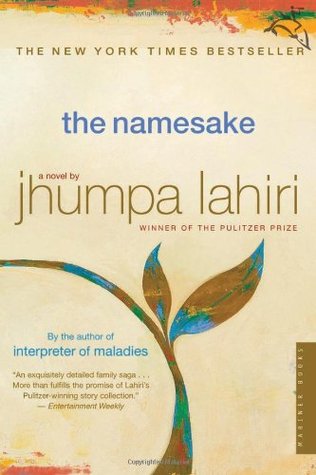 The Namesake takes the Ganguli family from their tradition-bound life in Calcutta through their fraught transformation into Americans. On the heels of their arranged wedding, Ashoke and Ashima Ganguli settle together in Cambridge, Massachusetts. An engineer by training, Ashoke adapts far less warily than his wife, who resists all things American and pines for her family. When their son is born, the task of naming him betrays the vexed results of bringing old ways to the new world. Named for a Russian writer by his Indian parents in memory of a catastrophe years before, Gogol Ganguli knows only that he suffers the burden of his heritage as well as his odd, antic name.
Lahiri brings great empathy to Gogol as he stumbles along the first-generation path, strewn with conflicting loyalties, comic detours, and wrenching love affairs. With penetrating insight, she reveals not only the defining power of the names and expectations bestowed upon us by our parents, but also the means by which we slowly, sometimes painfully, come to define ourselves.
I read The Namesake during the summer before my sophomore year of high school and absolutely fell in love.  While my experiences with school assigned reading has been mixed (as many other people can attest) I felt drawn to the story of The Namesake even though it was so much unlike my own.  One of the reasons I think that this novel would appeal to many YA readers is that it follows Gogol (the protagonist) from childhood into adulthood, giving readers the full spectrum of "I have memories like that" to "I wonder what my future holds".  It remains a favorite and Lahiri's other work remains on my TBR today.
The Great Gatsby by F. Scott Fitzgerald | Published April 10th, 1925 by Charles Scribner's Sons
He was in love with the golden girl of a gilded era. He was Jay Gatsby, a self-made millionaire who gave wild and lavish parties attended by strangers.  "In his blue gardens men and girls came and went like moths among the whisperings and the champagne and the stars.  She was Daisy Buchanan, a young rich beauty with bright eyes and a passionate mouth. "High in a white palace, the King's daughter, the Golden Girl." Even her voice was "full of money."
The Great Gatsby is a book that I have read twice in my life thus far and will more than likely read again.  Whether for an assignment or for pleasure Fitzgerald's prose simply captivates me in a way that few other authors do.  I find myself drawn not only to the intense symbolism but also what the seemingly trivial lives of the wealthy characters can mean today.  I am endlessly fond of this novel and think that it can appeal to someone branching out of a YA audience because if one hasn't read it in school already it is a novel that one will likely enjoy.
Maybe In Another Life by Taylor Jenkins Reid | Published July 7th 2015 by Washington Square Press
At the age of twenty-nine, Hannah Martin still has no idea what she wants to do with her life. She has lived in six different cities and held countless meaningless jobs since graduating college. On the heels of leaving yet another city, Hannah moves back to her hometown of Los Angeles and takes up residence in her best friend Gabby's guestroom. Shortly after getting back to town, Hannah goes out to a bar one night with Gabby and meets up with her high school boyfriend, Ethan.
Just after midnight, Gabby asks Hannah if she's ready to go. A moment later, Ethan offers to give her a ride later if she wants to stay. Hannah hesitates. What happens if she leaves with Gabby? What happens if she leaves with Ethan?
In concurrent storylines, Hannah lives out the effects of each decision. Quickly, these parallel universes develop into radically different stories with large-scale consequences for Hannah, as well as the people around her. As the two alternate realities run their course, Maybe in Another Life raises questions about fate and true love: Is anything meant to be? How much in our life is determined by chance? And perhaps, most compellingly: Is there such a thing as a soul mate?
Hannah believes there is. And, in both worlds, she believes she's found him.
This is one of the first titles that came to mind when compiling this list–I think one because it's so fitting but also because of how much I had enjoyed it.  I read this novel a couple winters ago in a single sitting and because of that it always reminds me of a movie.  I think that this novel would really appeal to those branching out of YA because at times it reminded me a little bit of a "chick flick" or a romantic comedy.  Additionally, while the protagonist was in her early 30s I still related to her character because I could imagine myself having similar problems when I am of that age.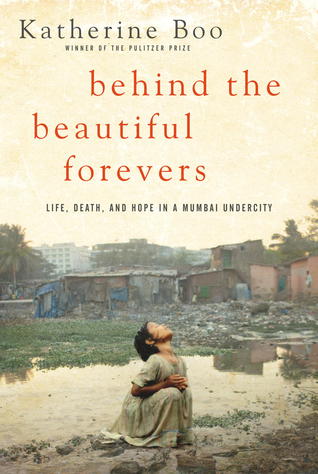 Behind the Beautiful Forevers: Life, Death, and Hope in a Mumbai Undercity by
Katherine Boo | Published February 7th 2012 by Random House
Annawadi is a makeshift settlement in the shadow of luxury hotels near the Mumbai airport, and as India starts to prosper, Annawadians are electric with hope. Abdul, a reflective and enterprising Muslim teenager, sees "a fortune beyond counting" in the recyclable garbage that richer people throw away. Asha, a woman of formidable wit and deep scars from a childhood in rural poverty, has identified an alternate route to the middle class: political corruption. With a little luck, her sensitive, beautiful daughter — Annawadi's "most-everything girl" — will soon become its first female college graduate. And even the poorest Annawadians, like Kalu, a fifteen-year-old scrap-metal thief, believe themselves inching closer to the good lives and good times they call "the full enjoy."
But then Abdul the garbage sorter is falsely accused in a shocking tragedy; terror and a global recession rock the city; and suppressed tensions over religion, caste, sex, power and economic envy turn brutal. As the tenderest individual hopes intersect with the greatest global truths, the true contours of a competitive age are revealed. And so, too, are the imaginations and courage of the people of Annawadi.
With intelligence, humor, and deep insight into what connects human beings to one another in an era of tumultuous change, Behind the Beautiful Forevers carries the reader headlong into one of the twenty-first century's hidden worlds, and into the lives of people impossible to forget.
Behind The Beautiful Forevers was one of the books that I was assigned to read this summer for a class I'm taking this fall.  It doesn't take long for a reader to realize that this book is in no way a fiction  work.  Despite its entirely truthful narrative Behind the Beautiful Forevers doesn't read like a typical non-fiction book.  In fact, I had to keep reminding myself that the stories I was reading were true events that happened in this world, in my lifetime.  I think the power of Behind the Beautiful Forevers is the way it grapples with real world issues that teenagers today are more than well aware of, but often not on such a global scale.  I think that this would be a great book for a fan of YA who loves a narrative structure but who wants to broaden their worldview.  If there is anything this book can do–it's that.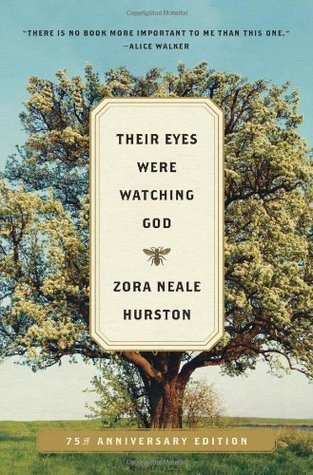 Their Eyes Were Watching God by Zora Neale Hurston | Published September 18th 1937 by J. B. Lippincott & Co.
One of the most important works of twentieth-century American literature, Zora Neale Hurston's beloved 1937 classic, Their Eyes Were Watching God, is an enduring Southern love story sparkling with wit, beauty, and heartfelt wisdom. Told in the captivating voice of a woman who refuses to live in sorrow, bitterness, fear, or foolish romantic dreams, it is the story of fair-skinned, fiercely independent Janie Crawford, and her evolving selfhood through three marriages and a life marked by poverty, trials, and purpose.
A true literary wonder, Hurston's masterwork remains as relevant and affecting today as when it was first published – perhaps the most widely read and highly regarded novel in the entire canon of African American literature.
Books I've read for/in school has been a growing theme…but that doesn't make them any less amazing novels!!! In fact–I'd argue that the books I've read due to school are at times even more amazing than the titles that I've picked for myself.  In terms of Their Eyes Were Watching God I think that this novel will appeal to those wanting to branch out of YA because this book will allow you to grow.  Written in a dialect style (rather than plain English), Their Eyes Were Watching God follows the journey of a young African American woman and, in doing so, brings light to stories from the past that are seldom remembered.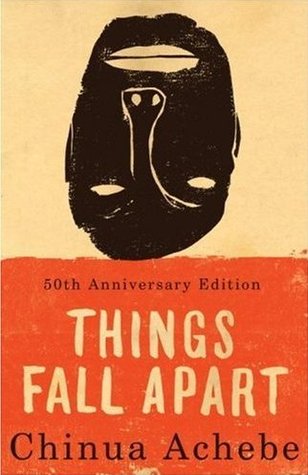 Things Fall Apart by Chinua Achebe | Published 1958 by Heinemann
Things Fall Apart tells two intertwining stories, both centering on Okonkwo, a "strong man" of an Ibo village in Nigeria. The first, a powerful fable of the immemorial conflict between the individual and society, traces Okonkwo's fall from grace with the tribal world. The second, as modern as the first is ancient, concerns the clash of cultures and the destruction of Okonkwo's world with the arrival of aggressive European missionaries. These perfectly harmonized twin dramas are informed by an awareness capable of encompassing at once the life of nature, human history, and the mysterious compulsions of the soul.
Things Fall Apart is one of the first novels that brought to light the difference between students who are open minded and those who are not.  You cannot ignore the culture in Things Fall Apart–the lives of the people of the Ibo tribe are at times incredibly different than the lives of people living in the US.  But the power of Things Fall Apart for me was that those differences in culture didn't need to be "explained"–they simply were.  This novel is the perfect bridge for someone branching out of YA because it wrestles with a topic that is often forgotten in young adult/children's literature.  It is certainly worth the read.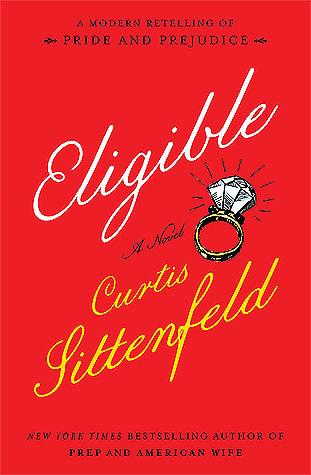 Eligible: A Modern Retelling of Pride and Prejudice by Curtis Sittenfeld | Published April 19th 2016 by Random House
This version of the Bennet family and Mr. Darcy is one that you have and haven't met before: Liz is a magazine writer in her late thirties who, like her yoga instructor older sister, Jane, lives in New York City. When their father has a health scare, they return to their childhood home in Cincinnati to help and discover that the sprawling Tudor they grew up in is crumbling and the family is in disarray.
Youngest sisters Kitty and Lydia are too busy with their CrossFit workouts and Paleo diets to get jobs. Mary, the middle sister, is earning her third online master's degree and barely leaves her room, except for those mysterious Tuesday-night outings she won't discuss. And Mrs. Bennet has one thing on her mind: how to marry off her daughters, especially as Jane's fortieth birthday fast approaches.
Enter Chip Bingley, a handsome new-in-town doctor who recently appeared on the juggernaut reality TV dating show Eligible. At a Fourth of July barbecue, Chip takes an immediate interest in Jane, but Chip's friend, neurosurgeon Fitzwilliam Darcy, reveals himself to Liz to be much less charming. . . . And yet, first impressions can be deceiving.
Let me start this recommendation by saying that if you haven't read the original Pride and Prejudice you should certainly go out and do so before picking up this novel!!  That being said, one of the reasons that I love Eligible is that it took the story that so many are familiar with and built upon it.  This novel is more than a modern update–it's a revised edition.  Not only are the characters in this novel wittier and more relatable, but many of them are expanded upon in a fashion that Jane Austen didn't have the time for.  Like Maybe In Another Life there were times when the story of Eligible reminded me of a romantic comedy in the best sort of way.  If you consider yourself a fan of humorous YA romances (Stephanie Perkins I'm looking your way) you should most certainly give Eligible a try.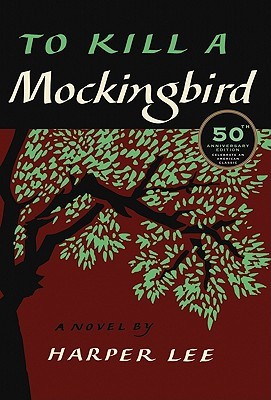 To Kill a Mockingbird by Harper Lee | Published July 11, 1960
A lawyer's advice to his children as he defends the real mockingbird of Harper Lee's classic novel—a black man charged with the rape of a white girl. Through the young eyes of Scout and Jem Finch, Harper Lee explores with rich humor and unswerving honesty the irrationality of adult attitudes toward race and class in the Deep South of the 1930s. The conscience of a town steeped in prejudice, violence, and hypocrisy is pricked by the stamina and quiet heroism of one man's struggle for justice—but the weight of history will only tolerate so much.
This recommendation is very simple.  If you have never read this novel, read it as soon as possible.  Did you read this novel in middle school or high school?  Take it out and read it again.  It's amazing how literature ages as we do, and how perspectives differ.  I promise that reconsidering this novel will be nothing but rewarding.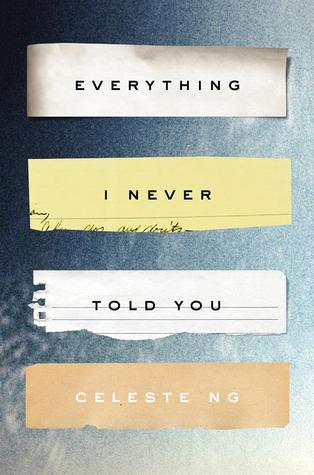 Everything I Never Told You by Celeste Ng | Published June 26th 2014 by Penguin Press
Lydia is dead. But they don't know this yet.
So begins this exquisite novel about a Chinese American family living in 1970s small-town Ohio. Lydia is the favorite child of Marilyn and James Lee, and her parents are determined that she will fulfill the dreams they were unable to pursue. But when Lydia's body is found in the local lake, the delicate balancing act that has been keeping the Lee family together is destroyed, tumbling them into chaos.
A profoundly moving story of family, secrets, and longing, Everything I Never Told You is both a gripping page-turner and a sensitive family portrait, uncovering the ways in which mothers and daughters, fathers and sons, and husbands and wives struggle, all their lives, to understand one another.
I can't help it.  This is my favorite novel.  It says it right there on my favorites shelf.  Of course I have to recommend it.  Now, why would this be a perfect novel for fans of YA?  Two big reasons.  First of all, of the five main characters that the novel focuses on, there is no "one" protagonist, three of those five protagonists are teenagers.  In this manner, you get to experience a novel about both teenage and adult characters without jumping fully into a adult centric novel.  The second reason is that Everything I Never Told You is a fascinating fast paced mystery–not in a detective story kind of way but in a human nature sort of way.  I promise you'll love it.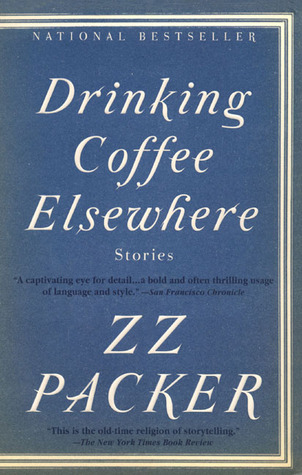 Drinking Coffee Elsewhere by ZZ Packer | Published May 6th, 2003 by Riverhead Hardcover
Already an award-winning writer, ZZ Packer now shares with us her debut, Drinking Coffee Elsewhere. Her impressive range and talent are abundantly evident: Packer dazzles with her command of language, surprising and delighting us with unexpected turns and indelible images, as she takes us into the lives of characters on the periphery, unsure of where they belong. We meet a Brownie troop of black girls who are confronted with a troop of white girls; a young man who goes with his father to the Million Man March and must decides where his allegiance lies; an international group of drifters in Japan, who are starving, unable to find work; a girl in a Baltimore ghetto who has dreams of the larger world she has seen only on the screens in the television store nearby, where the Lithuanian shopkeeper holds out hope for attaining his own American Dream.
With penetrating insight that belies her youth—she was only nineteen years old when Seventeen magazine printed her first published story—ZZ Packer helps us see the world with a clearer vision. Drinking Coffee Elsewhere is a striking performance—fresh, versatile, and captivating. It introduces us to an arresting and unforgettable new voice.
This collection of stories is an absolute masterpiece.  It was a book that an English teacher recommended that I read because she thought I would enjoy it–surprise! I did!!!  Anyways, I think that this collection would appeal to YA readers because, like Everything I Never Told You the characters in the stories span across generations and speak to a life in America that I found to be different than my own.  Now, whether or not the experiences in Drinking Coffee Elsewhere are similar or different than your own I am confident that ZZ Packer's voice will connect with you–she was first published at 19!!!
And that, my friends, is my recommendation of 10 books to get you branching out of YA.  Now don't worry–I'm not abandoning the genre myself.  But it is important to read broadly and I encourage you to do so.
xoxo