Review: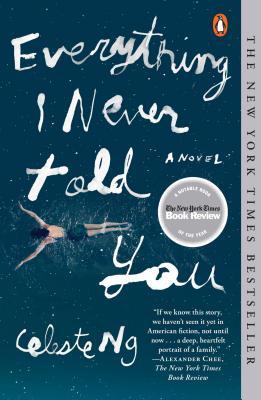 Title: Everything I Never Told You
Author: Celeste Ng
Publication: June 26th 2014 by Penguin Press
Source: Barnes and Noble
Format: Paperback
Date Read: December 2016
Genre: Fiction; Mystery; Historical Fiction
"Lydia is dead. But they don't know this yet." So begins this exquisite novel about a Chinese American family living in 1970s small-town Ohio. Lydia is the favorite child of Marilyn and James Lee, and her parents are determined that she will fulfill the dreams they were unable to pursue. But when Lydia's body is found in the local lake, the delicate balancing act that has been keeping the Lee family together is destroyed, tumbling them into chaos. A profoundly moving story of family, drama, and longing, Everything I Never Told You is both a gripping page-turner and a sensitive family portrait, uncovering the ways in which mothers and daughters, fathers and sons, and husbands and wives struggle, all their lives, to understand one another.
Thoughts:
The story of how I came across this novel for the first time is classic Mary.  On the last day before Thanksgiving Break I stopped by my English teacher's classroom right after school to celebrate the successful audition I had for a speech contest.  While I was there I–unsurprisingly–asked a question that had been lingering in my mind for some time:  "English-teacher… can you give me a list of books to read before I graduate high school?"  She was both thrilled and amused by my question… but spent the next 15 minutes recommending books to me that she thinks I would like.  That's where Everything I Never Told You comes in.
The second part of the story is another classic Mary.  I'm a hoarder of Barnes and Noble gift cards.  Because I get a lot of my reading material in the form of ARCS, damaged copies, and purchases from my local indie–I try to not buy a lot from Barnes and Noble.  However, anytime its gift-giving season (which lasts from my birthday through the New Year) I often find myself with several Barnes and Noble gift cards.  This is when I usually end up caving and using the cards for a large 10 book haul and then not buying from them for the rest of the year.  However, this fall I got really into poetry (as we had a poetry unit in English) so I found myself repeatedly ordering poetry books from Barnes and Noble.  In the aftermath of receiving this list from English-teacher I figured… why not snag a couple of the books she recommended?  So in one of my mini poetry hauls I threw in Everything I Never Told You, too.
Then a few of days ago I spent a lazy afternoon in bed and completely sped through Everything I Never Told You.  Upon finishing I immediately wrote an email to English-teacher and described the book to my boyfriend over text.  He actually insisted that I write a review for this novel because I seemed so passionate about it… and he's right!

I was instantly intrigued by the premise of Everything I Never Told You and found out very quickly that I adored the style of writing–especially for a novel like this.  Ng writes in third person, but there is no set protagonist of the novel.  Rather, throughout the novel she flits between the characters and gives the reader insights into the history and lives of each of the members of the Lee family.  This created a multifaceted plot that brings Toni Morrison's work to mind.  To me, the most powerful aspect of this novel is that while the reader grows to care deeply for each character, Ng makes no effort to mask or excuse their flaws.  Every character makes mistakes and hurts the members of their family but Ng provides the reader with a fly on the wall perspective to understand why each character is motivated to such actions.  I found myself ignoring the morality of the situations and focusing much more on what drove each character to these points.  Ng created such real personas–and her writing connected the reader so well to characters that in a text to my boyfriend I wrote
"The way the characters were written, I felt like I could reach out and hold their sorrows in my hands… a frightening notion that is."
The use of frightening… that certainly is an accurate term to use when discussing Everything I Never Told You.  The 1970's setting was pleasing; small historical accuracies were sewn into the flesh of the novel with care.  But the reader never forgets that this novel is not set in present day.  Not because of the lack of modern technology–but because many of the characters issues are rooted in the ways they embrace or disregard 1970's culture.  In their review the magazine Marie Claire pointed out that "this ghostly debut novel calls to mind The Lovely Bones"–and I couldn't agree more.  The similarities in the eerie 1970's suburbia complimented each other in such a way–it felt as if the two novels had once held hands or something.
It's important to discuss at this time the importance and relevancy of race in Everything I Never Told You not just because the representation of ethnically Chinese characters and a biracial family is incredibly important is this modern era but also for the role that race takes in the book.  Let me start with the former; throughout the novel, race is a core issue between the parents of the Lee family.  Because James is a Chinese American, while his wife is white, their experiences throughout life have been drastically different.  While it is important to note that Marilyn faces her own challenges with the rampant sexism of the 1970s (which is another moving focal point of the novel) the racial disconnect between the couple remains an ongoing point of tension.  This tension bleeds into the lives of their children who suffer from being referred to not only by the much outdated term "oriental" but from being entirely ostracized by their classmates for being the only non-white student in the class.  Aside from the role race serves in the novel itself, its purpose is entirely twofold.  I've mentioned before that Ng's characters connect easily with the reader–the power of that is exemplified here.  As a white American, the struggles faced by James and his children are entierly foreign to me.  And while yes, several of the occurrences in the novel would be socially frowned upon today racism still exists.  I've always personally valued reading not as an escape, not as a "trip into another world" but rather as an opportunity to learn about and consider perspectives different from my own.  While no amount of reading–or empathy– gives me the ability to truly understand I feel as though diving into another's experiences brings be one step closer to being a more conscientious global citizen.  This is the feeling that I felt more abruptly than ever once finishing Everything I Never Told You.
Ng concludes the novel with many answers to the swirling questions of this smoldering thriller.  However, she also leaves plenty of ambiguity so that the reader's mind can wander.  In the immediate aftermath of finishing I was burdened for a time with what I called "the sorrows" of the characters.  The realities of what their lives would be like after the closing of the novel haunted me–and that's when I knew that Ng's novel had been a success.  While there is something to be said about writing relatable characters, or finding a character that is similar to you personally and finding such a connection with that boo; the power that Ng wields in being able to bridge empathy for the reader with characters wildly unlike themselves is astonishing.
Final Thoughts:
Everything I Never Told You is an absolute masterpiece.  I could not be more impressed with the mind boggling emotional thriller that Ng created…especially when considered in conjunction with the powerful characters she wrote as well.  This novel has found its way not only onto my bookshelf and favorites list this winter, but also into my brain.  This is one of those novels that really changes not only the way that I look at literature, but also the way that I look at people.  And that my friends–those two changes in ~cognitive model~ that is why I continue to read.
xoxo