I did my first "New to the Shelves" TBR edition back in June, and it felt like it was about time to update y'all on what I've recently been added to my TBR.  I'm not sharing too too many books on my TBR, but if you want to really get a sense of what I've been adding lately you can check out my full TBR list on Goodreads.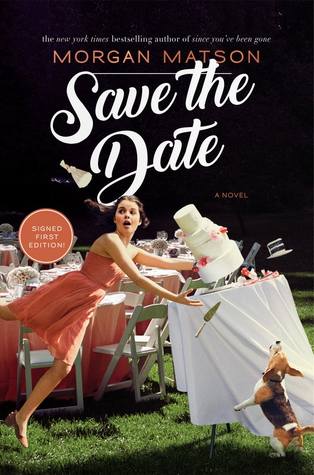 Save the Date | Morgan Matson // I have always been a fan of Maton's work, but her latest novel The Unexpected Everything didn't sit with me well…which was so sad!  I'm really hoping that her upcoming will impress–I need Matson to stay one of my contemporary staples!
Charlie Grant's older sister is getting married this weekend at their family home, and Charlie can't wait—for the first time in years, all four of her older siblings will be under one roof. She knows as soon as everyone is home, things will finally go back to the way they used to be. Her parents will change their mind about putting the house up for sale. Her mom will finally pay attention again to the real Grants instead of the version of the family she draws for her popular comic strip. The house will be filled with jokes and games and laughs again. Making decisions about things like what college to attend and reuniting with longstanding crush Jesse Foster—all that can wait. She wants to focus on making the weekend perfect.
The only problem? The weekend is shaping up to be absolute disaster. 
There's the unexpected dog with a penchant for howling, an alarm that won't stop going off, and a papergirl with a grudge.
There are the relatives who aren't speaking, the (awful) girl her favorite brother brought home unannounced, and a missing tuxedo.
Not to mention the neighbor who seems to be bent on sabotage and a storm that is bent on drenching everything. The justice of the peace is missing. The band will only play covers. The guests are all crazy. And the wedding planner's nephew is unexpectedly, distractingly…cute.
Over the course of three ridiculously chaotic days, Charlie will learn more than she ever expected about the family she thought she knew by heart. And she'll realize that sometimes, trying to keep everything like it was in the past means missing out on the future.
Whether or not you believe in fate, or luck, or love at first sight, every romance has to start somewhere. MEET CUTE is an anthology of original short stories featuring tales of "how they first met" from some of today's most popular YA authors.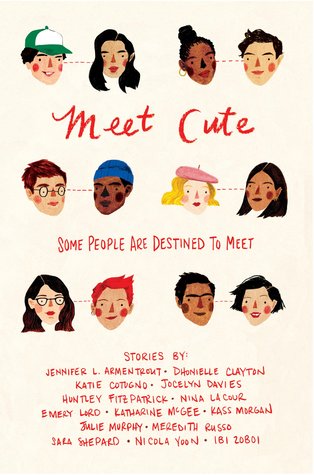 Meet Cute: Some People are Destined to Meet | Various Contributors // I adore short stories…and I've been feeling romance lately, so this collection sounds like an utter dream.  I have a feeling it will be reminiscent of the Stephanie Perkins edited seasonal collections we had a couple years ago.  I can't remember where I found this one…Goodreads probably.
Readers will experience Nina LaCour's beautifully written piece about two Bay Area girls meeting via a cranky customer service Tweet, Sara Shepard's glossy tale about a magazine intern and a young rock star, Nicola Yoon's imaginative take on break-ups and make-ups, Katie Cotugno's story of two teens hiding out from the police at a house party, and Huntley Fitzpatrick's charming love story that begins over iced teas at a diner. There's futuristic flirting from Kass Morgan and Katharine McGee, a riveting transgender heroine from Meredith Russo, a subway missed connection moment from Jocelyn Davies, and a girl determined to get out of her small town from Ibi Zoboi. Jennifer Armentrout writes a sweet story about finding love from a missing library book, Emery Lord has a heartwarming and funny tale of two girls stuck in an airport, Dhonielle Clayton takes a thoughtful, speculate approach to pre-destined love, and Julie Murphy dreams up a fun twist on reality dating show contestants. 
This incredibly talented group of authors brings us a collection of stories that are at turns romantic and witty, epic and everyday, heartbreaking and real.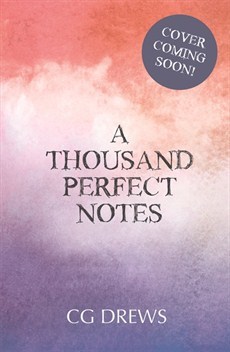 A Thousand Perfect Notes | C. G. Drews // Have you read Paper Fury written by the ever so enthusiastic and kind Cait?  Surely you have, it's one of my favorite blogs and I link to her reviews as another opinion quite frequently.  I was so absolutely thrilled when I found out that one of her novels was being published.  Cait is a voracious writer (and reader), a fact she discusses with frequency on her blog, so it didn't come as a surprise that something was already in the works in terms of publishing.  I'm not entirely sure of it's release date in the U.S. but it will arrive eventually.
Beck hates his life. He hates his violent mother. He hates his home. Most of all, he hates the piano that his mother forces him to play hour after hour, day after day. He will never play as she did before illness ended her career and left her bitter and broken. But Beck is too scared to stand up to his mother, and tell her his true passion, which is composing his own music – because the least suggestion of rebellion on his part ends in violence.
When Beck meets August, a girl full of life, energy and laughter, love begins to awaken within him and he glimpses a way to escape his painful existence. But dare he reach for it?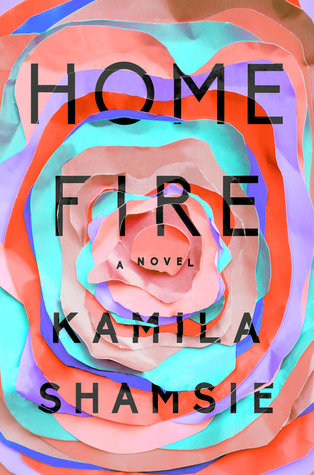 Home Fire | Kamila Shamsie // Home Fire was long-listed for the Man Book Prize 2017–whilst reading the list I was instantly drawn to this premise.  I love family centered stories (Everything I Never Told You, Song of Solomon, etc) and this sounds like another perfect one to add to my list.
Isma is free. After years of watching out for her younger siblings in the wake of their mother's death, she's accepted an invitation from a mentor in America that allows her to resume a dream long deferred. But she can't stop worrying about Aneeka, her beautiful, headstrong sister back in London, or their brother, Parvaiz, who's disappeared in pursuit of his own dream, to prove himself to the dark legacy of the jihadist father he never knew. When he resurfaces half a globe away, Isma's worst fears are confirmed.
Then Eamonn enters the sisters' lives. Son of a powerful political figure, he has his own birthright to live up to—or defy. Is he to be a chance at love? The means of Parvaiz's salvation? Suddenly, two families' fates are inextricably, devastatingly entwined, in this searing novel that asks: What sacrifices will we make in the name of love?
I hope that you enjoyed this recent smattering of recent TBR adds.  It always feels like my TBR is endless…but that's sort of the fun in it, is it not?
xoxo