Review: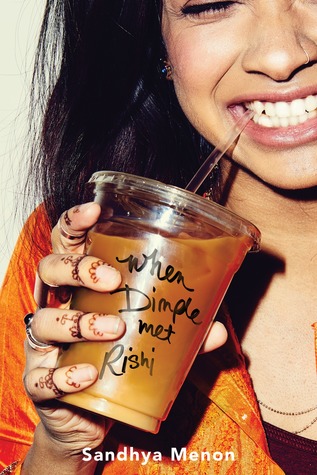 Title: When Dimple Met Rishi | Goodreads | Barnes and Noble | Book Depository | Amazon
Author: Sandhya Menon | Website
Publishing: May 30th 2017 by Simon Pulse
Format: ARC
Source: Publisher
Genre: YA; Contemporary; Romance
Date read: June 2017
Dimple Shah has it all figured out. With graduation behind her, she's more than ready for a break from her family, from Mamma's inexplicable obsession with her finding the "Ideal Indian Husband." Ugh. Dimple knows they must respect her principles on some level, though. If they truly believed she needed a husband right now, they wouldn't have paid for her to attend a summer program for aspiring web developers…right?
Rishi Patel is a hopeless romantic. So when his parents tell him that his future wife will be attending the same summer program as him—wherein he'll have to woo her—he's totally on board. Because as silly as it sounds to most people in his life, Rishi wants to be arranged, believes in the power of tradition, stability, and being a part of something much bigger than himself.
The Shahs and Patels didn't mean to start turning the wheels on this "suggested arrangement" so early in their children's lives, but when they noticed them both gravitate toward the same summer program, they figured, Why not?
Dimple and Rishi may think they have each other figured out. But when opposites clash, love works hard to prove itself in the most unexpected ways.
 Thoughts: 
I heard about this book months ago and was instantly intrigued.  There's not a ton of Indian American representation in YA…and because one of my best friends IRL is an Indian American I found myself developing some very high expectations.  Everyone else in the bookish world seemed to have high expectations too which caused When Dimple Met Rishi to develop some major pre-realease hype.  It seems that everyone was ready for this #ownvoices YA novel!  Once the cover was released everyone was literally head over heels in love (including myself) because YAY for a POC on the cover and also look how pretty it is!!!! As the hype grew and grew I myself grew and grew–more anxious to get my hands on this, that is.  Luckily I was able to obtain an ARC and managed to somehow finish the novel during my BookExpo trip (which I think should say something because of how exhausting BookExpo is).  (I also want to note that I didn't receive my ARC at BookExpo–it was far too close to its release date).
When Dimple Met Rishi isn't told in first person perspective, but rather third person with a first person emphasis.  I clearly don't know the real term to describe Menon's writing style but basically the entire novel is told in third person with an alternating emphasis on both Dimple and Rishi.  Because of this style Menon easily established both of her protagonists in their home lives before the characters meet each other.  Family and family dynamics is an integral part in the story that Menon tells and I found that their immediate establishment at the beginning of the novel helped solidify their longterm importance.  Additionally, American live vs cultural life is an ongoing idea throughout When Dimple Met Rishi not only because both Rishi and Dimple grapple with this as they make their transitions from high schoolers to college students but also because Dimple and Rishi have different opinions on the matter.  Dimple is introduced as someone who heavily rejects a lot of aspects of her cultural heritage and the only aspects that she "embraces" are aspects that she feels forced to my her mother.  Rishi, on the other hand, fully embraces the ideals presented by his parents (including arranged marriages) while his younger brother rebels even more forcefully than Dimple does.  Thus the reader is presented with several different examples of how different Indian American teenagers are handle their heritage.  As someone who is not Indian American this helped reinforce the idea that there is no "one" type of Indian American teenager and that they there are endless different ways and levels of living your heritage.  Also, I think one of the reasons that the idea of culture in When Dimple Met Rishi is so powerful is that the reactions felt by the characters have universal applications.  While not everything translates directly, being a teenager is rife with rebellion and whether that be rebellion be against ideological, political, religious, or cultural beliefs, rebellion itself is something that many different teenagers can relate to.
Although they get off to a bad start, it is very clear at the beginning of the novel that Dimple and Rishi are going to go at least somewhere romantically.  Their relationship was in no way instantaneous but instead was chock full of lots of lovely (albeit slightly awkward) moments as the two of them find their way to each other.  I firmly believe one of the most important aspects of their relationship is the fact that also didn't just immediately become a physical couple (partly because Dimple isn't fond of touching, but also because the pair are just getting to know each other).  Nonetheless When Dimple Met Rishi sets a new standard for YA by emphasizing that not every teenage couple has to or will ever move at the same speed physically.
Over the course of the novel I loved the way that Dimple and Rishi broke down stereotypes.  Rishi is the romantic, Dimple thinks that romance is phony.  Rishi is into art, Dimple is a master coder.  Over and over again Menon wrote her characters in a way that fights stereotypes.  As for character growth I would say that both Dimple and Rishi leave the novel less idealistic because not everything goes as planned and they are better for it.  Dimple and Rishi achieve something that not every teenage couple can say that they have–and that's that they help each other grow.
Some last little fun tid bits I want to mention…When Dimple Met Rishi is incredibly funny!!!!  I spent many moments laughing out loud (much to the annoyance of those around me lol).  Menon also mentions the 90s cartoon Daria which I SO APPROVE OF.  Lastly I love all of the descriptions of Rishi and his comics!!  I almost wish that those visuals had been included in the novel–that would have been so cute.
Final Thoughts:
When Dimple Met Rishi is a hilarious and heartfelt depiction of first love, the summer before college, and finding yourself in conjunction with your family's traditions.  Menon cleverly threads character development into an upbeat plot that covers first kisses to first heartbreak.  Both Dimple and Rishi are standout protagonists shaped on the backdrop of earnest families and well meaning friends.  When Dimple Met Rishi lives up to the summer hype and I would recommend spending a night with this one rather than a Rom-Com because they have the same effect.
Other Opinions:
Brittany | Brittany's Book Rambles