Review:
Title: The Upside of Unrequited | Goodreads | Barnes and Noble | Book Depository | Amazon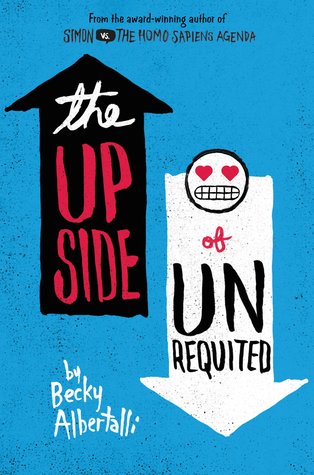 Author: Becky Albertalli | Website
Publishing: April 11th 2017 by Balzer & Bray/Harperteen
Format: ARC
Source: Publisher
Genre: YA; Contemporary; Romance
Date: June 2017
Seventeen-year-old Molly Peskin-Suso knows all about unrequited love—she's lived through it twenty-six times. She crushes hard and crushes often, but always in secret. Because no matter how many times her twin sister, Cassie, tells her to woman up, Molly can't stomach the idea of rejection. So she's careful. Fat girls always have to be careful.
Then a cute new girl enters Cassie's orbit, and for the first time ever, Molly's cynical twin is a lovesick mess. Meanwhile, Molly's totally not dying of loneliness—except for the part where she is. Luckily, Cassie's new girlfriend comes with a cute hipster-boy sidekick. Will is funny and flirtatious and just might be perfect crush material. Maybe more than crush material. And if Molly can win him over, she'll get her first kiss and she'll get her twin back.
There's only one problem: Molly's coworker Reid. He's an awkward Tolkien superfan with a season pass to the Ren Faire, and there's absolutely no way Molly could fall for him. Right?
Thoughts:
For some reason every time I read a Becky Albertalli novel I am always late to the party.  I'm always late to the party because I'll read the premise and say to myself "that sounds kinda meh" and then proceed to NOT READ IT FOR AN EXTENDED PERIOD.  Even though I've had an ARC of The Upside of Unrequited I didn't end up reading it until months after its release so shame on me.  But never fear– just as Simon vs the Homo Sapiens Agenda proved to be a surprise favorite and Albertalli's sophomore novel the Upside of Unrequited didn't disappoint.
Almost immediately into the start of The Upside of Unrequited Albertalli separated it from her previous work.  Not only because it's an unrelated standalone but also the vibe/style.  For one thing–the protagonist is a female!  Molly remains the primary focus of the story, although those close to her (like her twin sister Cassie) get lots of "stage" time too.  Albertalli quickly establishes in The Upside of Unrequited just how important home life is to her characters (so YAY for family in YA).  Despite my having more concrete similarities to the protagonist of Albertalli's first novel I found myself relating a lot to Molly.  Perhaps it's the emphasis that Albertalli puts on Molly's romantic relationships.
One of my favorite aspects of this novel (in relation to ~romantic relationships~) was the way that Albertalli handled classic YA contemporary tropes.  From first jobs, friend drama, lying to parental figures, drinking, and sex, Albertalli wrote her characters so that they reacted way less in an ABC home movie (Freeform?) sort of way bur rather in a way that more mimics my life and real life.  That being said The Upside of Unrequited has no shortage of teenage crushes and love but due to the largish cast of characters the readers are able to see multiple different teenage relationships–none of which are perfect–but all of which offer learning material for both the characters and real life.
As I mentioned above there are quite a few characters in this novel.  First there is Molly and her family, which is comprised of her twin sister Cassie, her baby brother, and her two moms.  Molly also has two "best friends" (one of whom is her cousin Abby) and with Cassie creates the ultimate high school girl group.  Additionally to that we have Cassie's love interest, the friends said love interest brings along, and lastly Molly's friends from work.  Wow, that was a lot.  I was impressed with Albertalli's ability to make keeping all of this straight so easy, as well as developing all of the characters enough so that I felt that they all had their own lives outside of Molly.  There was one character specifically that I had trouble growing accustomed to and that was Molly's cousin Abby.  For the entirety of the book Abby remains removed from the plot as she has recently moved away and for awhile I as annoyed with her presence because I felt like the book could have functioned without her.  However, once I finished I realized that even though she is not physically part of the action, Abby acts as a person who is always in Molly's corner and thus Molly's character is dependent upon her.
Molly's romance (to whom I'm not telling) remains a sweet thread throughout the novel as they struggle to find each other even when everyone (including the reader) knows its right.  Albertalli makes no effort to rush the characters (in actuality she does the opposite) but the final product is healthy and communicative–offering lessons and insight for other teenage relationships.
There were several important messages that Albertalli included throughout The Upside of Unrequited.  First of all the way that Molly's mental health is included in the novel in such a nonchalant way is a first step in normalizing its representation.  Albertalli also doesn't present Molly's mental health in a "black and white" sort of way–Molly is aware of her reality but still messes up a couple of times.  Albertalli's message on mental health is that there is no ~perfect~ way to handle yourself but rather that with each mistake you learn.  Molly's character expemplifies that.  Another aspect that I think Albertalli handled exceptionally well was her presentation of fatphobio.  There was demonstration not only as the emotional turmoil that comes from such statements but also demonstration as to how to combat these sort of moments, both externally and internally.  Abertalli's message remains firmly one of self acceptance not fixing and that was incredible.  Lastly…YAY for the Jewish representation! It frustrates me how few titles I can think of with this representation–it's something that needs to be changed and this was a great early step.
Final Thoughts:
The Upside of Unrequited is one of those few novels that actually made me giddy.  I was so excited about the characters lives and the plot of the book because I felt so close to them–so close in fact that I jabbered to just about everyone I interacted with (while reading) about the contents of this book.  Albertalli artfully tells the story of young teenage love as well as young teenage mistakes.  She effortlessly includes positive messages regarding taboo topics along with a firm stance on the importance of family.  Albertalli's novel is both sweet and true–you don't want to miss it.
Other Opinions: