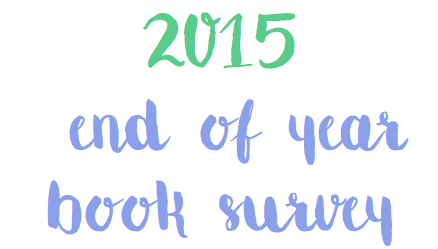 The End of Year Book Survey is one of my favorite parts of December.  The perfect way to end the year, Jamie of the Perpetual Page Turner writes and updates an awesome end of year survey for book bloggers.  For more info about the survey, click here.
This is my third year of participating.  My 2014 answers and here and my 2013 answers are here.

Number of Books Read: 
I only read 48 books in 2015, which is a significant dip from last years 96.  I would try and feel guilty, except that my grades were better this year and I read far less comic books.
Number of Re-Reads: 
I re-read more books this year than usual, but had a great time doing so.
Unwind | Shadow and Bone | Cinder | Scarlet
Genre I Read the Most From:
Other than the general term YA, I most certainly read a lot of contemporary in 2015.  It's fascinating, that I read so much contemporary when it is honestly not my favorite genre. Maybe something that I need to work on in 2016.

Best Book of 2015:
This was super tough, but I think that without a doubt my top book of 2015 was
Belzhar by Meg Wolitzer | Review 
Book I Thought I Would Love But Didn't:
This one is most certainly Even When You Lie to Me by Jessica Alcott.  I remember being intrigued by the blurb as early as 2014 but it wasn't until just this month that I finally dove into it, and was utterly disgusted.  Not only did the whole thing come across as gross, but the characters were all super boring.
Most Surprising Book of 2015:
I picked Dangerous Girls by Abigail Haas for this not because it was the premise was unexpected, but because it was a perfect mystery and caught me off guard up until the end.
Book I Pushed the Most in 2015:

After a little thought, I realized that I actually pushed Anna and the French Kiss by Stephanie Perkins onto a lot of people in 2015.  A lot of my non-reader friends were asking for book recommendations, and this is always one of my go-tos because the romance is solid and similar to T.V.
Best Series Starter:
Lara of Word Elixirs just had me read Graceling by Kristin Cashore for our December Epic Recs.  This has been something that I've been meaning to read for a long time but hadn't gotten around to it until she pushed me to read it.  As it turned out, Graceling is AMAZING.
Best Series Ender:
I didn't read any series enders in 2015…I'm honestly terrible at reading series but that's a story for another day.
Favorite New Author of 2015:
This is without a doubt Becky Albertalli (who wrote the FABULOUS Simon vs. the Homo Sapiens Agenda).  Not only did Albertalli write one of my favorite books of the year, BUT she also has a fabulous Twitter and promise for future awesome books.  Follow her @beckyalbertalli
Best Out of Genre Read:
I've been branching into the adult genre more and more in 2015, but the best book that I found in this genre in 2015 was Maybe In Another Life by Taylor Jenkins Reid.  This is a more sophisticated version of Everything that Leads to You, and I LOVED it.
Most Action-Packed/Thriller of 2015:
Ready Player One by Ernest Cline is most certainly not a thriller, but was seeping with fascinating action and intense fights.  I adored so much about this book,
but it's fight scenes were not ones I wanted to skip over | Review
Most Likely 2016 Re-Read:
Since A Court of Mist and Fury is expected sometime in 2016 I will most certainly be reading A Court of Thorns and Roses to remind myself what happened, and also because it was just so GREAT | Review
Most Memorable Character of 2015:
This one surprised me, but I think it is actually Queen Levana from Fairiest and the Lunar Chronicles by Marissa Meyer.  She was super freaky, but a fantastical villain and unforgettable at best | Review
Most Beautifully Written Book of 2015:
Not a day goes by it feels like that someone on Tumblr of Instagram isn't sharing a quote from All the Bright Places by Jennifer Niven.  It was sad, yes, but the perfect bundle of quote worthy writing.
Most Life Changing Book of 2015:
I'd heard of The Opposite of Loneliness: Essays and Stories when in came out back in 2014, but I never imagined that I would be so inspired by the writing of Marina Keegan.  Her life may have been cut short, but myself and thousands of others were affected by her thoughtful words.
Book I Can't Believe I Waited Until 2015 to Read:
The Summer I Turned Pretty by Jenny Han is classic YA contemporary, but I didn't read it until 2015.  Although it wasn't my favorite book ever, I'm glad I'm now on the Jenny Han Bandwagon and was able to go back and appreciate her earlier work | Review
Shortest/Longest Books of 2015:
Shortest | The Tales of Beedle and Bard by Queen JK
Longest | A Short History of Nearly Everything by Bill Bryson
Most Shocking Book of 2015:
Shocking may be a bit of a stretch to describe my reaction to The Unbecoming of Mara Dyer but it was certainly unexpected.  After years of friends raving about the romance, I was surprised to find that the majority of the book focused on the, you know, huge paranormal aspect.  Still loved it though | Review
OTP of 2015:
Connor and Risa of Unwind by Neil Shusterman are always a fav paring of mine.
Favorite Non-Romance Relationship of 2015: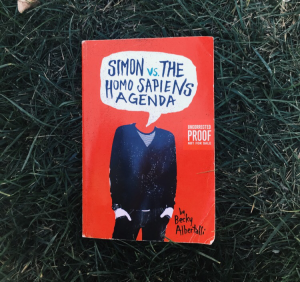 I loved SimonXAll His Friends.  They were the cutest, and most realistic (probably that I've ever read).  I'm jealous of you Simon (Simon vs the Homo Sapiens Agenda)

Favorite Book from an Author Read Previously:
Saint Anything made me want to go back and re-read all of Dessens other books.  I haven't done that yet, but I'm certainly thinking about it.
Best Book I Read Because of a Recommendation:
I hate to re-use a book, but Graceling was jut so GOOD and I thank Lara so much for recommending it to me.
Newest Fictional Crush:
No one really came to mind for this.

Best World Building of 2015:
Although it was a turn of for some people, I LOVED the time that Rainbow Rowell spent in the beginning of
Carry On working on world building and introducing characters.
She is amazing and this book was spectacular | Review 
Book That Put a Smile on my Face:
A Little Something Different by Sandy Hall was a sweet book, not overly developed but well planned. The love story was adorable, and brought a smile to my face | Review
Book That Made me Cry:
Although Second Chance Summer by Morgan Matson didn't make me cry, per say, I did read it this spring amidst a slew of other sad books that caused a little bit of a book depression for a while!  I DO love Matson though, and was impressed with this contemporary.
Hidden Gem of 2015:
I was disappointed when I didn't see a lot of hype for What We Saw by Aaron Hatrzler, because not only did I think it was a fantastic book, but I felt like it was an important message that should reach the YA demographic.  So, now that you know it is hidden, go get your shovels.  Dig this one out, because its a gem | Review
Book that Crushed My Soul:
Finding Audrey by Sophie Kinsella crushed my soul only because it dealt with real problems in a setting that isn't present a lot in YA.  Mental Health books tend to feature older teens, all the while ignoring the fact that such issues affect people of all ages.  I think that 'soul crushing' may be a bit of a stretch, but it was disheartened by Audrey situation.  Luckily, she is a strong character and embodies a resilience that
I think people in real life can admire | Review
Mot Unique Book:
Magonia was not only the most unique book that I read this year, but perhaps that I have ever read.  I finished that book feeling as if I had zero grasp on what had happened, but I liked it!  The writing was haunting, and I was left wanting to immediately start the book over again.  While I have yet to re-read it, such a strange book is bound to find itself in my hands again soon | Review
Book That Made me the Most Mad:
I think that Undertow by Michael Buckley wins the title as the book in 2015 that mad me the most mad only because I LOVED the premise.  I loved the premise, but I didn't love the execution.  Not only did I think that the plot and concept was not well developed, but an annoying romance snuck into what could have been a more action focused book and just took over the show.  I suppose my anger is fueled by disappointment.  I haven't decided yet if the cliff-hanger ending is deserving of my reading of the sequel; hopefully that book will redeem the series | Review

Favorite New Blogs Discovered in 2015:
I plan on doing an actual post about this, but here's a taste:
Ciao Bella | Willa's Ramblings | The Quiet People | Twirling Pages | Paper Fury
Favorite Review I Wrote in 2015:
That would have to be my Ready Player One review.  I wrote my review ideas on paper for the first time in forever and was so inspired by the whole book and review wiring that I called one of my friends who I knew liked it and talked his ear off for about an hour.  I could hear him smiling at me over the phone, though.  I'm pretty sure he appreciated my in depth commentary.
Best Discussion/Non Review of 2015:
I'm particularly proud of the creation of my own feature on Books In Her Head titled "Let's Have Dinner".  Although the feature has evolved a bit over the past couple months, I think that the first interview with Lara remains my favorite.
Best Event I Participated In:
Ooh the #RealYA is pretty recent but was a super cool movement (that is still going on, feel free to join in on social media).  To read more about its beginnings Willa's post here explains it nicely.
Best Moment of Bookish/Blogging Life in 2015:
Last February or March I was invited to joint the team at Lit Up Review, and it was honestly a dream come true.  I love writing and running my own blog, but it has been particularly rewarding to work on a different project with a great group of girls that I consider sweet, caring friends.
Most Challenging Thing About Reading/Blogging Life in 2015:
This is a tie between Netflix and School.  Netflix is hard, because sometimes I come home from school and my brain cannot function words on a page and Netflix is there to numb my brain.  School also takes up an extremely large amount of time (3+ hours of homework anyone?).
Most Popular Post This Year:
My review of A Court of Thorns and Roses got a lot of hits this year, as well as some lovely comments.
Post I Wish Got a Little More Love:
This might seem a little crazy, but I really enjoyed doing the Taylor Swift Tag over the summer, and I think that my answers were pretty spot on!
Best Bookish Discovery:
On my list of things todo in 2016 is to improve my Spanish speaking, and I figured the best way to do that would be to read a familiar book in Spanish.  Of course  I picked Harry Potter, and with a little research found out the that only does The Book Depository carry a Spanish Edition, but it carries foreign editions of lots of other popular books too.  This is super helpful, especially because Amazon is a little limited in this area.
Did I Complete Any Reading Challenges:
Well, technically my Goodreads challenge was set at 5 books, but that was mostly so that I could keep track of how many books I'd read this year.  I actually was *formally* boycotting reading challenges, because they are stressful.  Perhaps in 2016 I'll set some more goal based challenges, not number based.

One Book I Didn't Get to 2015 that is my #1 Priority for 2016:
That is probably Six of Crows by Leigh Bardugo.  I've had an ARC of it for months, but just haven't had the time to read it yet.
Most Anticipated 2016 Release:
I tend to fall in love with anything that Morgan Matson writes, so there's no doubt in my mind that I will love The Unexpected Everything.  COME TO ME NOW!
Most Anticipated 2016 Debut:
You all know that I'm a huge fan of mysteries, so a retelling of Sherlock?  YES PLEASE.  A Study In Charlotte by Brittany Cavallaro.
Most Anticipated Series Ending/Sequel in 2016:
I've been avoiding reading the rest of The Raven Cycle by Maggie Steifvater because I wanted to binge it and the opportunity is about to be here with the final installment in the quartet The Raven King.
2016 Goals About Reading/Blogging Life:
I'm going to leave this one blank, because I plan on doing a post about it!



2016 Release I've Already Read/Am Pushing on Everyone:
Ooh everyone needs to go read The Lifeboat Clique by Kathy Parks.  It wasn't at all what I expected, but I ended up really enjoying it.  Keep your eye for this one in March.
And that Concludes the 2015 End of Year Book Survey.  Thank you for joining me!