Review: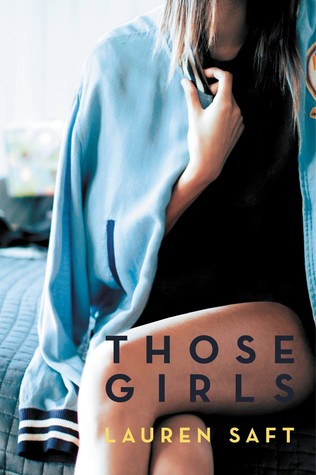 Title: Those Girls
Author: Lauren Saft
Publication: June 9th 2015 by Poppy
Source: Library
Format:  Hardcover
Genre: YA; Contemporary; Romance (Subplot)
Junior year, the suburbs of Philadelphia. Alex, Mollie and Veronica are those girls: they're the best of friends and the party girls of the school. But how well does everybody know them–and really, how well do they know one another? Alex is secretly in love with the boy next door and has joined a band–without telling anyone. Mollie suffers from a popular (and possibly sociopathic) boyfriend, as well as a serious mean streak. And Veronica just wants to be loved–literally, figuratively, physically….she's not particular. Will this be the year that bonds them forever….or tears them apart for good? 
Thoughts:
I first heard about Those Girls through Grace's review way back in June!  Her review certainly piqued my interest and I made sure to add it the never-ending TBR.  Luckily, it didn't get lost in the stacks.  I saw a copy at my school library back around September (I think) and I snatched the copy. I ended up reading Those Girls at a slow pace, intermixed with other books.  Luckily, this novel was perfect for that sort of leisurely reading, as it was primarily character driven, not plot driven.
Those Girls has three main protagonists: Alex, Mollie, and Veronica  Although I didn't count chapters and page numbers, it often felt like Alex had the most 'page time' (haha, screen time…).  Anyway, in brief character synopsis Alex is in a band, Mollie has a boyfriend, and Veronica 'gets around'.  This trio are "those girls".  You know who I'm talking about.  The uber exclusive, 'popular' (evolved meaning of this word, more on that another day) girls that everyone is envious of.  Those Girls attempts to take a look into their lives and 'reveal' that everything is not as awesome and swell as it may seem.
The friendship dynamic between the three friends felt a little forced, but indeed it really was.  In our little trips down memory lane it is revealed that Alex and Mollie were friends first, and poor Veronica gets pulled into the continuous trio dilemma of "threes a crowd".  Although this seems as if its going to be an ongoing issue, and Veronica may speak as if it is, their friendship dynamic is affected by much bigger issues.
As I mentioned earlier, this book is character driven, so it was very important that each of the characters had a strong voice.  I think that Veronica was my favorite, perhaps I'm just a fan of her bluntness and confidence, but she was the one who stood out to me the most.  Second of all being Mollie, who cynical worldview made her sort of a dreadful person to be around, but set her apart from the other girls.  Alex, however, was a mixture of too many clichés to count.  Her voice was stagnant, and whiny.  Eventually when she has enough character development to get off her ass and do something right, she goes about everything in the most unethical of ways.  God Alex!?!?
Although the this was character driven, each girl did have her own sort of plot line.  Surprisingly enough, the girl who was most interesting (Veronica), and the most boring plot line ever.  She fell into old habits and never got to properly redeem herself or display herself as the dynamic character that she was.
As much as I enjoyed this book, I did have a couple of issues.  The first of all being Mollie's real/not real eating disorder.  This honestly is more of an issue with clarification for me than anything, but I think that it should have been more clear whether or not Mollie had a real eating disorder.  Her skipping meals was repeatedly (and casually) mentioned often, however her friends maintained a lack of concern.  If this meal skipping/eating disorder was an important enough part of Mollie's character to be mentioned as often as it was, I feel like it should have been more formally addressed in some way.
My second issue was that we have this weird, emotional non-climax midway through the book.  Because I wasn't particularly fond of Alex, I couldn't sympathize with her emotional trauma and found myself getting annoyed with whinyness.  The characters all react very strangely to this event (unrealistic, in my opinion) but it managed to move the plot forward.
Lastly, the real climax (based on typical proximity to end point) was very odd.  Pretty much every relationship in the book implodes and never really gets back together.  Our rather ambiguous ending left me wanting more detail, not being happy with the freedom to dream on with what happened to the characters.
Final Thoughts:
Those Girls is raw, exciting, and (not surprisingly) a little cold.  Told through the minds of high school girls, the blunt reality of real life is displayed over and over again as you-can-touch-them-they-feel-so-real characters meander and get lost amidst their lives.  Although I had a few issues with the strange plot set up in Those Girls the character development and accurate portrayal of high school more than made up for it.  Yes this contemporary, and yes this is YA, but this is not some kitschy romance.  I recommend this for fans of Sarah Dessen and Morgan Matson who want something a little more intense, or fans of Speak who want something a bit lighter.  Want to relive the high school glory (or non glory) days? Pick up a copy of Those Girls for book about real life teens who can rip your heart out.
Other Opinions:
Michelle | Pink Polka Dot Books
Have any of you all read Those Girls? What do you think about the portrayal of high school in YA?  Did any of you join in Lit Up Review's discussion on twitter (#REALYA)?  I did, and you should too!  Go my friends and chat about with evolving community.