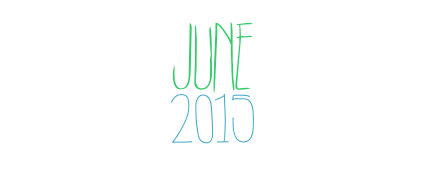 School is finally over, so June was the month of READING. Finally, I felt like was being starved during the school year.  I traveled a bit this month so my reviewing sort of got put on the back burner, but I've got a stack of five books that I've read

and need to review, so July will be more of a packed month!
And June was a busy month for everyone, it sounds like.  First we had Caitlyn Jenner, then Marriage Equality was legalized in the US, then Queen J. K.
Rowling announced that the mysterious Harry Potter stage play IS ACTUALLY THING! It's called Harry Potter and the Cursed Child and will run in London in the summer of 2016.
Books:
If you didn't see my Goodreads feed or my Stacking the Shelves post this month, you wouldn't know that June was utterly STUFFED with books.
Magonia by Moaria Dahvana Headley (Review)
Aza Ray is drowning in thin air. Since she was a baby, Aza has suffered from a mysterious lung disease that makes it ever harder for her to breathe, to speak—to live. So when Aza catches a glimpse of a ship in the sky, her family chalks it up to a cruel side effect of her medication. But Aza doesn't think this is a hallucination. She can hear someone on the ship calling her name. Only her best friend, Jason, listens. Jason, who's always been there. Jason, for whom she might have more-than-friendly feelings. But before Aza can consider that thrilling idea, something goes terribly wrong. Aza is lost to our world—and found, by another. Magonia. Above the clouds, in a land of trading ships, Aza is not the weak and dying thing she was. In Magonia, she can breathe for the first time. Better, she has immense power—and as she navigates her new life, she discovers that war is coming. Magonia and Earth are on the cusp of a reckoning. And in Aza's hands lies the fate of the whole of humanity—including the boy who loves her. Where do her loyalties lie?
A Court of Thorns and Roses by Sarah J. Maas
When nineteen-year-old huntress Feyre kills a wolf in the woods, a beast-like creature arrives to demand retribution for it. Dragged to a treacherous magical land she only knows about from legends, Feyre discovers that her captor is not an animal, but Tamlin—one of the lethal, immortal faeries who once ruled their world.
As she dwells on his estate, her feelings for Tamlin transform from icy hostility into a fiery passion that burns through every lie and warning she's been told about the beautiful, dangerous world of the Fae. But an ancient, wicked shadow grows over the faerie lands, and Feyre must find a way to stop it . . . or doom Tamlin—and his world—forever.
The Summer I Turned Pretty by Jenny Han (Review)
Belly measures her life in summers. Everything good, everything magical happens between the months of June and August. Winters are simply a time to count the weeks until the next summer, a place away from the beach house, away from Susannah, and most importantly, away from Jeremiah and Conrad. They are the boys that Belly has known since her very first summer–they have been her brother figures, her crushes, and everything in between. But one summer, one terrible and wonderful summer, the more everything changes, the more it all ends up just the way it should have been all along.
The Unbecoming of Mara Dyer by Michelle Hodkin
Mara Dyer doesn't think life can get any stranger than waking up in a hospital with no memory of how she got there.
It can.
She believes there must be more to the accident she can't remember that killed her friends and left her mysteriously unharmed.
There is.
She doesn't believe that after everything she's been through, she can fall in love.
She's wrong.
What We Saw by Aaron Hatzler
 Kate Weston can piece together most of the bash at John Doone's house: shots with Stacey Stallard, Ben Cody taking her keys and getting her home early—the feeling that maybe he's becoming more than just the guy she's known since they were kids.
But when a picture of Stacey passed out over Deacon Mills's shoulder appears online the next morning, Kate suspects she doesn't have all the details. When Stacey levels charges against four of Kate's classmates, the whole town erupts into controversy. Facts that can't be ignored begin to surface, and every answer Kate finds leads back to the same question: Where was Ben when a terrible crime was committed?
This story—inspired by real events—from debut novelist Aaron Hartzler takes an unflinching look at silence as a form of complicity. It's a book about the high stakes of speaking up, and the razor thin line between guilt and innocence that so often gets blurred, one hundred and forty characters at a time.
Red Queen by Victoria Aveyard
The poverty stricken Reds are commoners, living under the rule of the Silvers, elite warriors with god-like powers.
To Mare Barrow, a 17-year-old Red girl from The Stilts, it looks like nothing will ever change.
Mare finds herself working in the Silver Palace, at the centre of
those she hates the most. She quickly discovers that, despite her red blood, she possesses a deadly power of her own. One that threatens to destroy Silver control.
But power is a dangerous game. And in this world divided by blood, who will win?
Favorite Read: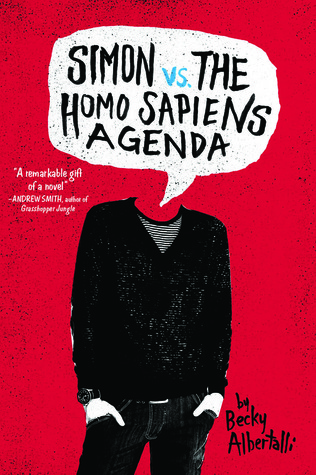 Simon vs. The Homo Sapiens Agenda by Becky Albertalli
 Sixteen-year-old and not-so-openly gay Simon Spier prefers to save his drama for the school musical. But when an email falls into the wrong hands, his secret is at risk of being thrust into the spotlight. Now Simon is actually being blackmailed: if he doesn't play wingman for class clown Martin, his sexual identity will become everyone's business. Worse, the privacy of Blue, the pen name of the boy he's been emailing, will be compromised.
With some messy dynamics emerging in his once tight-knit group of friends, and his email correspondence with Blue growing more flirtatious every day, Simon's junior year has suddenly gotten all kinds of complicated. Now, change-averse Simon has to find a way to step out of his comfort zone before he's pushed out—without alienating his friends, compromising himself, or fumbling a shot at happiness with the most confusing, adorable guy he's never met.
Movies:
I finally got to see Pitch Perfect 2 in theaters.  Music was so-so, but it was SO FUNNY.  I think that
made up for its lacking in musical flair.  I also FINALLY got to see The Imitation Game and it was SO interesting, but SO sad.
Music:
I've been a little more toned down with music this month, but hey, we finally have a real piano for me to play on.  I'm excited to get to mess around with songs again.  I love playing the piano.
Blogging and Other Media:
My Posts: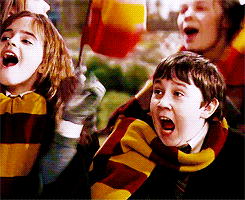 Magonia | Review
The Summer I Turned Pretty | Review
Stacking the Shelves | June 2015
My Posts On Other Blogs:
Lit Up Review | Vampire Academy
The Paperback Palace | The Art of Recommending
Things I Found Interesting:
Beth on How to Get Over a Reading Slump | (Guest Posting) The Paperback Palace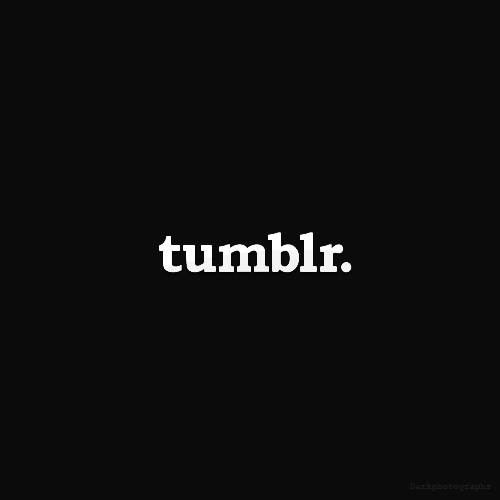 Grace's Top LGBTQIA+ YA Books | Words Like Silver
Cait's #amcurrently Post | Paper Fury
Cee's Discussion Regarding Books She Loves Too Much to Review | The Novel Hermit
Grace's Discussion on Morality in YA | Words Like Silver
Cait On Why She Always Finishes Books | Paper Fury
Beth's Top 5 Writing Courses for Novelists | The Quiet People
Grace's Review of Those Girls | Words Like Silver
June Goals:
1. Finish unpacking (It was a pain, but I finally did it! :D)
2. Decorate room the way I envisioned it (There's still some more work to do, but I've got the basics down)
3. Work as much as possible!  Lets make some $$$$
4. Hey I should totally work out?  Yeah? (lol)
5. Plan out blog posts (nope)
6. Organize writing project (I tried, but then I just got stressed about it)
7. Plan out summer reading/summer homework 
8. Recipes (what??)
9. Hang out with some friends
10. Read.  As much as possible
11. Reach out to other bloggers (I did a lot of commenting!)
12. Get around to that Secret Blog Idea thing (To be honest I don't even remember what this was!?! lol)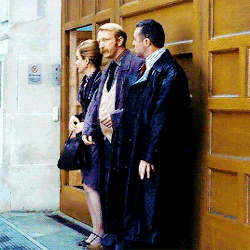 13. Music
14. Weasley sweater!
15. Smile
July Goals:
1. Have fun on holiday (why did I just write holiday I'm not even British?!?)
2. Read some books
3. Finish Summer Reading/Homework
4. Keeping commenting on other blogs
5. Do more blogger collaboration
6. Work on some writing, either current WIP or just the daily prompts
7. seriously try and work out
8. practice music
9. Finish decorating room
10. Write some blog posts in advance (especially for vacation)
11. Watch some good movies (revisit your favorite)
12. cook more
I hope that you all had a lovely June.  What was your favorite read this month?