Review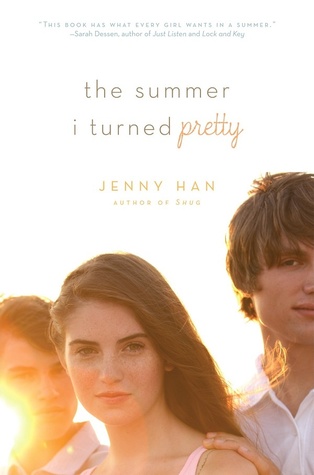 Title | The Summer I Turned Pretty 
Author | Jenny Han
Publication | January 1st, 2009 Simon & Schuster Books for Young Readers
Format | Paperback
Source | Bookstore
Genre | Contemporary; Romance
Belly measures her life in summers. Everything good, everything magical happens between the months of June and August. Winters are simply a time to count the weeks until the next summer, a place away from the beach house, away from Susannah, and most importantly, away from Jeremiah and Conrad. They are the boys that Belly has known since her very first summer–they have been her brother figures, her crushes, and everything in between. But one summer, one terrible and wonderful summer, the more everything changes, the more it all ends up just the way it should have been all along.
Thoughts:
Although The Summer I Turned Pretty books are often considered classic YA contemporary, it wasn't until Han's To All the Boys I've Loved Before that she reentered the YA scene.  I read To All the Boys I've Loved Before when it initially came out, and I quite enjoyed it.  I've had a copy of The Summer I Turned Pretty knocking around my bookshelves for quite a while and I was in a mood for something lighter post ACOTAR.
When reflecting on The Summer I Turned Pretty, I would say that my favorite part of this book was how accuratly Belly portrayed a teenaged girl.  Although the media and some people's personal opinons may shame it, the emotions and feelings of teens can swing all over the place, all the time.  Han artfully set up relationships that allowed the reader to explore along with Belly.
Han switches back in forth with her narration.  Although her third person POV stays the same throughout the entire book, she does change time periods a bit and shares chapters of flashbacks to previous summers.  While I enjoyed these chapters' ability to strengthen my understanding of Belly's relationships with her family and the family friends, they were disjointed from the story.  I found myself wanting to skip these chapters, because they didn't really move the plot forward.
The 'twist' in this book isn't exactly what I would call a twist (it is just a contemporary).  Han uses plenty of foreshadowing and even Belly knows that something is up.  I think that most readers will have a greater grip on the situation than Belly, which made it heartbreakingly painful to read the whole thing fall apart.
Han's characters other than our lovely Belly were tactfully developed.  Everyone had just enough non distracting backstory to remain realistic.  I was a fan of Jeremiah and Belly's brother because I could relate to those sorts of relationships and memories.
Final Thoughts:
The Summer I Turned Pretty is not the most ingenious contemporary that I've ever read, but I certainly wouldn't consider it 'light' or 'fluffy'.  Han grapples with teenaged romance admits family crisis, the nostalgia of growing up, and the pain of seeing someone you care for in pain.  As a reader, I felt connected with Han's relatable characters and scenarios.   The book ends on a tender note, providing closure with the promise of an unfinished story.  I was satisfied with the well written ending.  If you have read To All the Boys I've Loved Before but not the Summer trilogy I recommend picking it up.  For fans of Morgan Matson's Second Chance Summer and Sarah Dessen.
Other Blogger Reactions:
Katie's Review | Katie's Book Blog
Willa's Review | Willa's Ramblings
Jamie's Review | The Perpetual Page Turner