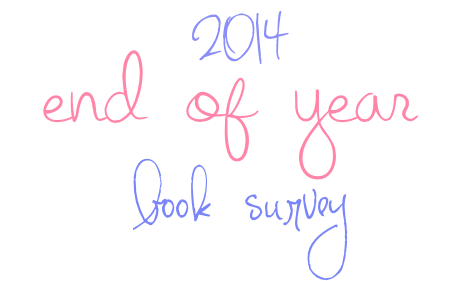 The End of Year Book Survey is an annual survey (5th annual this year) written and hosted by Jamie at the Perpetual Page Turner.  Click here for more information about the End of Year Book Survey.
I participated in this survey last year, so here are last years answers (Note that the questions vary somewhat from year to year).
Without further ado here is the 2014 End of Year Book Survey!
Number Of Books Read: I read 96 books total in 2014.  No where near my goal of 120, but I am happy with where I stand.  The stakes will be higher next year though.
Number of Re-Reads: I re-read 4 books in 2014: The 5th Wave, The Mysterious Benedict Society, Shiver, and The Sisterhood of the Traveling Pants
Genre I Read the Most From: Overall: YA  Genre Breakdown: Contemporary
Best Book I Read in 2014:
Since You've Been Gone by Morgan Matson
Book I was Excited About & Thought That I Would Love But Didn't: 
Panic by Lauren Oliver
Most Surprising (Good or bad):
In the Shadow of Blackbirds by Cat Winters
Most Book I "Pushed" On People to Read in 2014
Cinder by Marissa Meyer
Best Series I Started in 2014: 
A tie between The Grisha Trilogy by Leigh Bardugo and Throne of Glass by Sarah J. Maas
Best Sequel of 2014: 
Where She Went by Gayle Forman
Best Series Ender of 2014:
The One by Kiera Cass *Even though everyone was under the impression that this series was a trilogy and that The One was going to be the series' close, it turns out that its not, and that there are two+ more books coming out…? But I'm still using it here because it was the only series ender that I read! 😀
Favorite New Author Discovered in 2014: 
Laini Taylor
Best Book From a Genre I don't Usually Read From:
The Night Circus by Erin Morgenstern
Most Action-packed/Thrilling/Unputdownable Book of the Year:
Shadow and Bone by Leigh Bardugo
Book I Read in 2014 That I'm Most Likely to Re-Read in 2015:
Shatter Me by Tahereh Mafi
Favorite Cover of Book Read in 2014:
Perfect Ruin by Lauren DeStefano
Most Memorable Character of 2014:
Tied Between:
Celaena Sardothien and Frank Porter
Most Beautifully Written Book I Read in 2014:
The Strange Beautiful Sorrows of Ava Lavender by Leslye Walton
Most Thought-Provoking/Life-Chaning Book of 2014:
I am the Messenger by Markus Zusak
Book I Can't Believe I Waited Until 2014 to Finally Read:
Shatter Me by Tahereh Mafi
Favorite Passage/Quote From a Book Read in 2014:
"I was still a little amazed that this was happening. That this, the thing that had seemed so impossible, so terrifying, so utterly beyond me, was happening. I was having fun. And that I was the one who made it happen. "I did it," I said out loud, sendind my voice up to the stars above me, not really caring if the others heard me."-Morgan Matson Since You've Been Gone
Shortest Book of 2014:
Lord of the Flies by William Golding
Longest Book of 2014:
Gone by Michael Grant
Book That Shocked Me the Most:
We Were Liars by E. Lockhart
OTP Of the Year:
Dramione.  Always Dramione
Favorite Non-Romantic Relationship of the Year:
Cinder and Captain Thorne
Favorite Book I Read in 2014 From an Author I've Read Previously:
Eye of Minds by James Dashner
Favorite Book I Read in 2014 Based Solely on a Recommendation From Somebody Else:
Lockdown: Escape from Furnace by Alexander Gordon Smith
Newest Fictional Crush from a Book Read in 2014:
Frank Porter.  FRANK PORTER
Best 2014 Debut I Read:
Liv, Forever by Amy Talkington
Best Worldbuilding/Most Vivid Setting I Read This Year:
The Night Circus by Erin Morgenstern
Book That Put a Smile on My Face/Was the Most Fun to Read:
Anna and the French Kiss by Stephanie Perkins
Book that Made My Cry in 2014:
If You Could Be Mineby Sara Farizan
Hidden Gem of the Year:
Dear Killer by Katherine Ewell
Book that Crushed my Soul:
Aristotle and Dante Discover the Secrets of the Universe by Benjamin Alire Sáenz
Most Unique Book I Read in 2014:
Everyday by David Levithan
Book that Made Me the Most Mad (Positive or Negative)
The Twinmaker By Sean Williams Favorite New Blog I Discovered in 2014:
Favorite Review I Wrote in 2014:
Obsidian by Jennifer L. Armentrout
Best Discussion/Non Review I Posted:
Book Hype, Blurbs, and Skewed Reading
Best Event I Participated In:
Best Moment of Bookish/Blogging Life in 2014:
Tie between getting my first ARC request, when Laini Taylor recognized my blog, when Danielle Paige followed me on Twitter, and when I became friends with Marissa Meyer at her release party for Cress.
Most Popular Post This Year On the Blog:
Waiting On Wednesday: Blue Lily, Lilly Blue
Post I Wished Got a Little More Love:
My True Love Gave to Me: Twelve Holiday Stories
Best Bookish Discovery:
Well, I think Tumblr should be considered a bookish discovery, even though its not really.
Did I Complete Any Reading Challenges/Goals:
Well, the only one I set was the Goodreads challenge and I didn't finish that…
One Book I Didn't Get to In 2014 But Will Be My Number 1 Priority in 2015:
The Infinite Sea by Rick Yancey
Book I am Most Anticipating in 2015 (Non-Debut):
Tie between Fairest by Marissa Meyer and THE CARRY ON BOOK THAT RAINBOW ROWELL IS WRITING OMG
2015 Debut I'm Most Anticipating:
Damage Done by Amanda Pantich
Series Ending/Sequel I am Most Anticipating In 2015: 
Winter by Marissa Meyer (It doesn't even have a cover yet)!
One Thing I HOpe to Accomplish/Do in My Blogging and Reading Life in 2015:
Request ARCs, connect with bloggers and authors, create.
A 2015 Release I've Already Read and Recommend to Everyone:
Vivian Apple at the End of the World by Katie Coyle  (It may not be the best but everyone should read it)

And that's it!  That's the 2014 end of year book survey.  I hope that you all enjoyed reading my answers!  Happy New Year, and I hope that you have a wonderfully whimsical 2015.